It all started in 1978 with an IBM Technical Disclosure Bulletin (Vol. 21 No. 2 July 1978) where S. Bigbie et. al. published their idea about a programmable key/display/switch device. The same year Alan Bagley of Hewlett-Packard patented a calculator with electronically alterable key symbols (US patent 4,078,257) Nice as these ideas were, it proved to be more difficult to come up workable switch design that integrated an LCD in a key top and make it work. Many tried and failed.
It took six years until 1984 when Reinhard Engstler, a computer science student in Germany, turned the idea of one of his professors for a programmable LCD keyboard into a fully functioning push-button design with integrated graphic LCD display and incorporated them in a programmable keyboard. The keyboard displayed different special characters for scientific notations.
The first programmable LCD pushbutton switch and the first programmable LCD keyboard were born.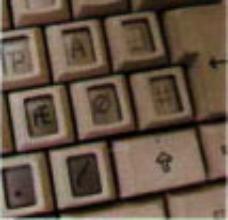 Reinhard Engstler quickly became the Director of Development at LcBloc Computer Technologie GmbH & Co. KG. and oversaw a development department with 10 hardware and software engineers to set up production for programmable LCD pushbuttons and keyboards.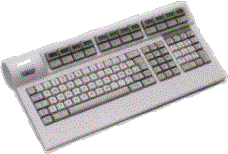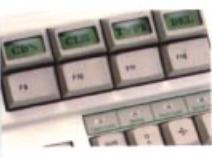 For this development, Reinhard Engstler, together with Dr. Müller, received the Innovation Prize of the Franzis-Verlag for LC Key/Keyboard.
By 1987, Hohe Electronics GmbH & Co. KG had acquired the LCD key technology and Mr. Engstler, as director of R&D, developed the second generation of LCD switches and proprietary control electronics, which were an integrated ASIC in each LCD switch.
The LC Board EM2.34 programmable keyboard with 34 LCD function keys received the Gold Medal for Best Product at the Leipzig Industrial Fair.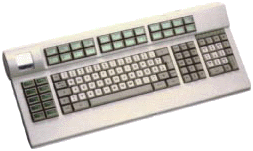 In 1994, Mr. Engstler, together with Mr. Weimer and three partners, participated in a Management Buy-Out to form HE Electronics, Technologie & Systemtechnik GmbH. Mr. Engstler continued in his position as director of R&D while Mr. Weimer oversaw the marketing and sales activities of the LCD key business.
The LCD keyboard development culminated in the design of the TANK (Technically Advanced Network Keyboard) for TTSI. This keyboard combined a PC, Sun and serial interface with expansion modules and could simultaneously control PC, SUN and real-time applications as well as over 700 phone lines for financial services applications on Wall Street.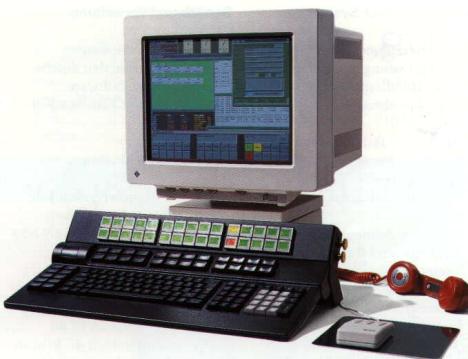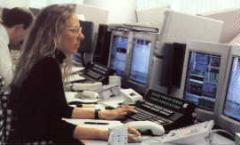 Mr. Engstler also developed the second generation ASIC for the new Trend series of LCD pushbutton switches as well as numerous customer specific I/O systems.
One of these designs was the T2 keyboard for TTSI with patented software to control of any command in any application, bi-directionally and via the internet. This technology was also integrated into the SybilT phone by ISI.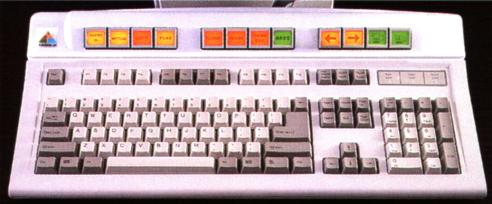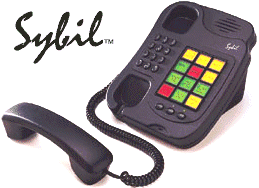 In 1999, Rapid Technology Interfaces Ltd. acquired the LCD key technology from HE Electronics. Mr. Engstler was named General Manager of the RTI Keyswitch Division and Mr. Weimer Director of Sales and Marketing.
In 2001, Messrs. Engstler and Weimer decided to form a new company dedicated to the development of advanced LCD key technology products.
After a year of development
[E³] Engstler Elektronik Entwicklung GmbH began operations in ZENTEC Technology & Innovation Center specializing in the development of programmable LCD keyswitches and custom I/O systems.
Here are a few highlights of the accomplishments of [E³] since 2003:
Volume production of SA series switches with resolutions of 32x16, 36x24 and 64x32 pixels with 64

R

G

B

background colors begins.


[E³] signs distribution agreements for the United Kingdom, the United States and Canada, Japan, Turkey and Belgium with shipments going to more than 20 countries worldwide. [E³] exhibits regularly at the NAB show in Las Vegas and ibc in Amsterdam in addition to .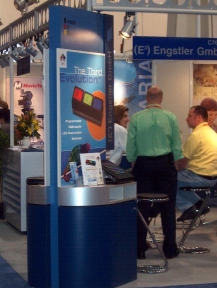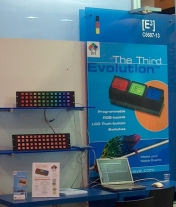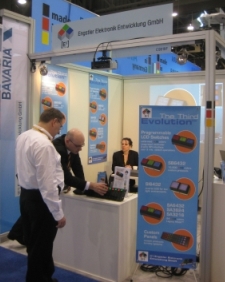 The Future
What will the future of the LCD Key Technology bring?

[E³] is committed to the continuous development of state-of-the art display switch solutions. At any given time we are working on numerous product improvements as well as technological innovations that allow our customers to incorporate the latest advances in technology to market.
Please stay tuned for news on ...